PulpPress Live Action Trailer
Posted on October 13, 2011
Kevin has teamed up with author and PulpPress founder Danny Hogan to produce a live action trailer for his first novel Killer Tease.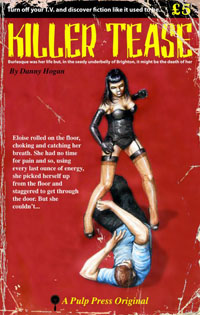 Killer Tease is a classic revenge story, you can read more about the book here - a review or the official release from the PulpPress site here
This is the first PulpPress release to receive a live action trailer and we are incredibly excited about seeing what these two twisted minds cook up. There is also a chance to get involved by helping to sponsor the project using Sponsume- page here…
sponsume (terrible name, nice idea) is like KickStarter, the project funding site that enabled Lou O'Bedlam to traverse across USA on his 'couples' project. What is great about this site is that you can offer rewards for those who pledge money- so for instance in this case you can pick up a Limited edition 1m C-type mounted print of work by Kevin Mason for just £375 of sponsorship money- his prints normally sell for upwards of £550 at this size- so you are getting a real collectors item at bargain price and helping fund a project as well. For a pledge of £400 you can receive a 1:1 session of up to 3 hours with either Kevin for photography or Danny for creative writing advice, tips etc.
Everyone involved in this production, which includes set builds, location shoots, is Brighton based and Danny and Kevin would love to be able to cover any material costs and possibly some paid time for those working on the shoot.
We are really intrigued as to how this project fares, especially as Create studios will be matching funding raised by the Sponsume site. So if you are keen on reading, photography or film and want to help these two Brighton creatives then please
pledge some money.
Anything is greatfully received, a 1000 people pledging £2 each would be perfect…. Have a little look at the film, listen to danny and then see if you want to contribute.